Trips on the Colorado River
A river trip through the Canyon requires a substantial investment of time, effort, and money, and may involve a fair amount of stress and discomfort. It isn't particularly dangerous if you are healthy and in good shape. But there is ample potential for discomfort. Being confined in a raft the noonday sun in 120 degree weather for two weeks isn't for everyone.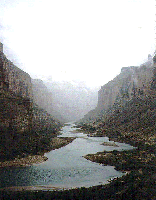 River trips through the Grand Canyon generally start at Lee's Ferry, an hour north of Flagstaff on Highway 89. It's about 277 river miles to Pearce (Pierce) Ferry, which is actually in Lake Meade now. At mile 225 there is a take out on Diamond Creek, over dirt roads to Peach springs. There is a brief outpost of civilization at Phantom Ranch (close to the half way point). Otherwise the river corridor is wild.
Commercial outfitters offer trips in motorized rafts, or oar powered rafts and dories. The motorized rafts are big, and they look suspiciously like cattle cars on the river. They can make it through the Canyon in a few days. Oar trips, on the other hand, generally take about two weeks.
Private trips are possible as well, but there is a reservation system, and the waiting list is years long (Currently I am around number 3700, down from 4400 last year, 4800 the previous year). Doing a private trip is a very large undertaking -- there is a great deal of planning involved, the logistics are daunting, and you have to know what you are doing on the river.
For both private and commercial trips the psychological interactions in a group of 5 to 25 people in the seclusion of the Canyon can be remarkable, and sometimes the determining factor for how much you enjoy the trip. Good friends at the beginning of a private trip can end up never speaking again. Contrariwise, you can make lifelong friends from strangers met on a commercial trip.
---

[Songbird]
[Webmaster]
© 1995 Songbird