Prelude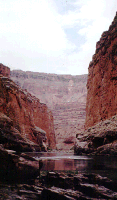 This started as an account of a trip on the Colorado through the Grand Canyon in October 1993. But it has changed...

Planning the trip began at least a year in advance. Over that period there were lots of changes, but in the end there were 8 of us in a group. Three of us were spending 13 days on the river (my wife Christina, my friend Hal, and I). The other 5 were hiking out at Phantom Ranch after 6 days on the river. They were Ida and Celeste, co-workers of mine, two friends of Celeste's, Margaret and Kathleen, and Kathleen's husband Bob.

After fairly extensive research into the various rafting companies we selected Canyon Explorations.

Our group rendezvoused at a motel in Flagstaff the evening before the trip was to begin. (Christina, Hal, and I actually arrived early, and visited the Wupatki Indian Ruins outside of Flagstaff.)

That night we attended an orientation, and met the other travellers on our journey -- there were 12 others in addition to our 8. They came in 4 groups -- Rod & Judy, on their 10th anniversary; Jan and Dave and Deena and Alex worked together; Sam and Bonnie and Stan and Maureen, from Florida, and Laurie and Lisa, who were giving the pre-trip orientation, would also be along on the trip.

Jan and Dave owned a fine restaurant, had wanted to bring special food and wine, but Can-X wasn't able to split the bill of fare. So Jan and Dave decided to supply food for everyone, along with many bottles of excellent wine -- Mahi Mahi, Fillet Mignon, Salmon Steaks, and other heavy duty gourmet food. Though the usual river fare is very good, this was to be landmark cuisine.

Laurie gave the orientation. She laughed a lot, forgot things, repeated herself, and in general seemed almost giddy -- perhaps a little intoxicated, I thought. Only later did I realize how much she looked forward to spending two weeks on the river.

She handed out our drybags -- we each got one -- and lectured about procedures and techniques that would be used on the trip. She demonstrated how to pack a drybag. I watched with carefully concealed dismay -- I had packed much more than would fit.

After the orientation I stayed up late, packing, packing, and repacking. Fortunately, Christina packs very efficiently, and I could steal a little space from her bag...but it just didn't all fit, and I had to make some difficult but ultimately meaningless choices. At 3 AM I gave up -- we were supposed to leave at 6:30 in the morning. Probably I could sleep during the ride to Lees Ferry...
---

[Songbird]
[Webmaster]
© 1995 Songbird